This will be a living thread that I will update with more info as it comes but basically I'm taking my Unreal III game for iPhone and iPad and making one with Unreal 4 for console and PC hopefully! Here is what I was able to accomplish with UDK so expect a ton more features with UE4! Please give me your ideas and recommendations to make this a game you would want to play!
First Update 4/4/13 - I'm working on a Seattle themed level right now and will post pics as soon as I get it in Unreal. I'm thinking of doing a game where the Monkey Land universe collides with Seattle and Monkey must go through both worlds to save his universe. This would mean making more Monkey Land 3D style levels and making levels in a more realistic gritty tone to really show off the engines power. Thanks for checking this out! (
some wip pics on my devlog
)
Here is a video of the second game in the series - Monkey Land 3D Sub-Zero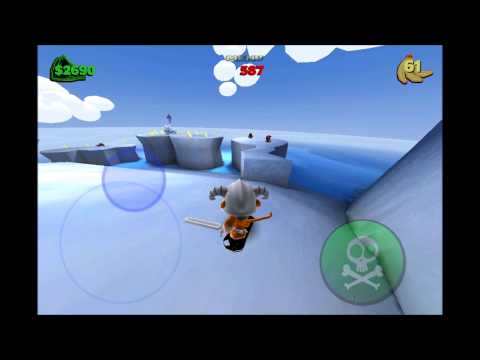 Here's a mix of both games in another music video!
A shot of the original Monkey Land 3D (this game is crazy fast on the iPhone 5c)
Title screen for Monkey Land 3D Sub-Zero
Mugen being a boss and killing demon spiders!
The viking helmet offers protection from enemies but if you get hit you lose the helmet.
Key features include:
Collect bananas to open doors and explore for more hidden treasure!
Kill all the baddies for maximum high scores!
Lots of blood and sound effects!
Don't touch the spiked dinosaurs, they can't be killed!
Unlockable levels make you want to find everything!
In game tutorials and tips given from the NPC's
Monkey Land 3D is a fun game mobile game with a N64 plat-former feel and a lot of love for that style of game went into it's design. I hope you enjoy it and leave me feedback for the next UE4 edition!