Hey guys,
I have a small update to share
Visually not much did change; I only included two more placeholder-meshes for another street-car and an ice-truck (super important!)
However, under the hood I changed quite a lot! I merged together my "drivable vehicle pawn" and the above shown vehicle-ai, so that with one blueprint-class I can have both. That makes entering and exiting cars substantially easier and requires only to toggle a boolean.
I also finally attached the vehicle-spawner (see last youtube video) to the player. Now cars from different car classes (street cars, sport cars, trucks, etc) are spawned and the player can enter and exit parking but also driving cars. Have a look: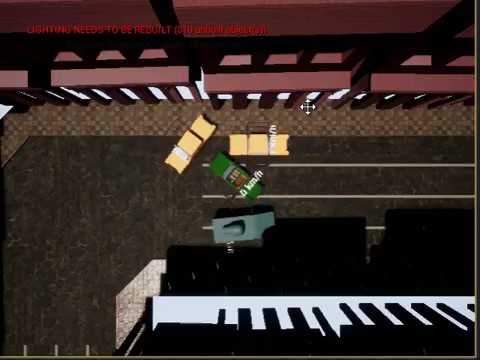 Everything still needs quite a lot of polishing but Iam quite happy that it basically seems to work nicely. Next steps are to fix some bugs (e.g. after driving around and exiting, the walking directions of the top-down character are messed-up somehow..) and to include a health system for the vehicles. Plus: Cars that were possessed by the player are supposed to disappear after a certain time for avoiding traffic jams. So, I guess I will include a time-triggered explosion of the car.
THEN I need to try to get it work in multiplayer as well - I hope that this is not going to be too difficult! In the mean time Iam going to include more and more car models.