One year after completing my Icy Mountain Road project I decided to return and make something more of it. Over the past two weeks I totally remastered the scene into something I'm at least a little less unhappy with.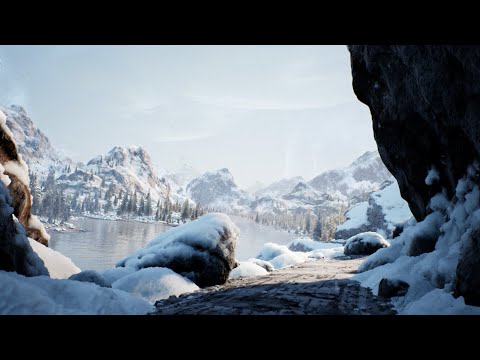 (revisited)
(original)
Firstly I remade the snow/cliff material, now using both tessellation and subsurface scattering to get something a lot more convincing. I also used Quixel Mixer to overlay some mud onto the cliff texture and world aligned the snow texture to bring it together. The road is done in precisely the same way but with two vertex paint layers to break up tiling and add some interest by overlaying some tire tracks and a cracked version of the original road texture.
The landscape is done in much the same way but with a blend from world position to get a nicer wet transition between it and the lake.
Then I added in some trees from MAWI's Conifer Forest pack. The winter function wasn't blending properly so I added a snow overlay at the end and got a subsurface color I was happy with by blending that with the Atmospheric Light Color.
The lake was also from MAWI's pack, just scaled up a bit to look good at this size.
For lighting I pretty much just added the new SunSky actor and other than enabling DFAO and a few tweaks to preference, it's good to go, and fully dynamic. I added in MAWI's snow fx actor to get some snowfall, and added the heightfog actor to imitate some distant effect (this can work with the SunSky actor if you set its inscattering to black). For clouds I brought in the Matte Painting Skybox Pack by Velarion, added and tweaked the Light Function cloud shadows, and updated the material to sample the Sky Atmosphere.
The result I got was very subtle which was ok because the scene is pretty foggy. For some more clouds I brought in SkyCards by Stefan Misirdzhiev and gave them the same treatment. These I placed around the mountains to give them a misty look and some in the sky to supplement the sky dome. To get something more dynamic, I added panners to both these materials, which for the skycards I prevented them from clipping out the edges by masking them by one of Velarion's textures which are meant to be placed over the top of the sky dome and blend out towards the edges.
Link to Artstation for some more pictures:
https://www.artstation.com/artwork/J9llrD