Auto Terrain Texturer (Older version)
Plugin Created in 4.9/4.10/4.11 Size
532
MB:
https://gumroad.com/l/IGFy
Auto Terrain Cover V3 Plugin:
Size: 2GB
Download
Via Gumroad
Install: To install the plugin make a Plugins folder in your project and Extract the AutoTerrainCover to it. Then make sure its enabled under plugins in the editor.
Supported Version: 4.13/4.14/4.18 +
Includes Plugin and World Machine Work files.
For Support Message me on facebook:
https://www.facebook.com/12-CatBlack...2913014823124/
EULA in plain english: You can use this in your game, you can use this to learn from, you can't repurpose the plugin and resell it.
So I've been working on this for a while trying to update it and get a workflow for me that helps me put together a starting terrain. I'm no artist and i know i can't be the AAA i wanna to try to be but I think this is a step in the right direction maybe? lol.
The Auto Terrain Cover V3 is a Auto material / terrain starting set that I have put together for me and to help others that want to learn how to do something similar. It's a compilation of all the knowledge i have accumulated over the last 2-3 years using unreal and playing around with "This might be crazy but what if i could do A B and C".
New things added / changes from the V2:
Added 11 Modular Background mountain meshes. With auto material for modifying the mountains appearance as you may need.
Added 1 tree using tree-it with LODs and adjustments. No Billboards...
Changed the RPG Sky and PPV effects from what they were in the other one. The previous release had overblown exposure settings and other settings that made any other object with standard material settings overly blown out.
Decreased the shader complexity.
Added the ability to dynamically shutdown layers of the material that is not needed in the final appearance of the terrain or mountains to lessen the overhead for the shader.
Added grass type height limits so restrict the grass type from appearing over a given height.
Added the ability to turn off the use of grass type in general per grass type Forest/Grass/Rocks
Recreated the masking for the terrain to have exact mask for the terrain coverage instead of over layered mask causing grass type overlaps and texture heavy texture bleeding and weird normal bleeding. Tried to make the volume clouds lighter but that failed so the clouds are in perpetual WIP until i get a better solution for clouds.
Since I'm not a wall of text kind of person here is a list of videos to show off what the plugin can do, how to use it, and other how to videos.
Quick Create:
https://www.youtube.com/watch?v=fX21noeAPJc
Fly Around:
https://www.youtube.com/watch?v=5mraJMhYpW8
Auto Terrain Cover V3: Material Break down and Explanation
Auto Terrain Cover V3: Using Vue / WM / UE4 Workflow
More imgur's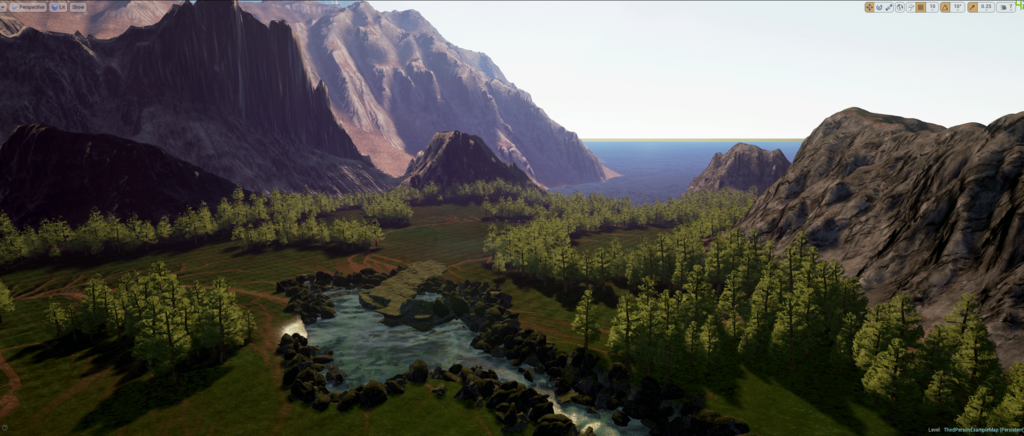 4.14 Update:
Changes and updates:
Auto Terrain Cover V3 updated to 4.14. My focus in this release was performance efficiency and easy support for Epic's Experimental Procedural Foliage Spawner. I've replaced all textures with proper sized materials, removed the light information using B2M from algorithmic. Removed redundant things from the master material. Added Dynamic Terrain Scaling to align the macro textures on the terrain properly without having to replicate the master material just to use the macro textures to a different sized terrain. My target performance was 60 FPS on a massive 8x8 tiled 8K terrain
(I7 / 16GB Ram on a GTX 970)
. So far up until I add the overbearing grass to the grass type output I got over 60 FPS. I'm sure with better mesh assets it will shoot back up to 60. With the grass I got it to stay around 55FPS with and occasional dip to 50 on certain turns. As for the procedural foliage that's working and simulating just fine. My only issue I've noticed is that when painting sometimes I could not erase painted data when using a hard edge for the brush. Might be an issue with 4.14. But anyway. I've setup the master Material to be a Theme setup material. Meaning that If you want to setup foliage coverage for a Dessert / Forest / Grassy Plains / etc, you can setup this in the master material and duplicate the example master material and setup your instance material with the needed example materials for that theme type. All the logic for the auto material has been migrated to a single material function with the Material Output, Grass/Forest/Rocks output mask. Making it easy to update the calculations for all other Terrain Themed Master Materials and Material Instances. I hope this helps some. I definitely am not done with this tool but I feel this is better than the other releases by far. Happy learning and happy dev-ing.




Updating to newer engine versions:
I made a tutorial about creating and updating content only plugins to other engine versions. I mainly have been requested to update my auto terrain cover to newer versions even though there are no changes to the plugin. So i created this to show others, one how to create their own custom library that can hold assets that they want to move from project to project and 2 showing what is needed to update the plugin binary files from one engine version to the next. I personally like doing this for c++ objects that are linked to BP objects as this allows you to move blueprinted c++ objects from one project to the other without worrying about breaking the parent class links in your blueprints. Mind you that this is only for content only but can be expanded to make your own plugin with your own content and game logics linked to c++ etc:

https://www.youtube.com/watch?v=Hs2xIuuX7bw