Rigid mesh Animation using bake Destruction simulation
Destructible's How-To 2: Rigid Mesh Animation (No Bones Required!)
Thanks to Osman for his help in getting this working originally for me!
Overview:
**While this tutorial is meant to show phyiscs simulations that baked to an animation timeline you can use this for other animations that are not physics or destruction oriented.**
In this tutorial we will take a physics simulation created in Max (sub in your own modeling software if need be) and baked to the animation timeline and bring that into Unreal Engine 4 without the need to rig, skin, or use any bones for the chunks that are being animated.
**This will not cover using PhysX Labs plugin or MassFX to bake the animation to the timeline. This will assume you've already gotten to that point and start from there to UE4.

Max 2013 file and FBX file assets:
https://www.dropbox.com/s/wq3bqudxg5...ssets.zip?dl=0
Step 1: Before Exporting the Animation
Animation we'll export:
This is my mesh with the timeline animation:
Once you've got your animation setup the way that you would like you'll need to select all the Fracture chunks or pieces and place them in a group:
You can do this in Max by going to the menu bar > Group > Group > pop-up window > Give your group a name
After you've grouped your pieces we can export.
Select your group and choose Export Selected.
Use these FBX settings, making sure that you include the animation. You can specify the exact frames you want to export if you'd like)
In my animation it is ~200 frames
Step 2: Importing your Rigid Mesh Animation into UE4
When you import the FBX into UE4 make sure that you've selected the option for "Import as Skeletal" for this to work correctly.
Use the following settings:
Step 3: Using your Rigid Mesh Animation
Place your skeletal mesh in your scene and create a reference to it in your Level BP and pull off a the pin to create a "Play Animation" Node. Select the animation and whether it should loop.
Then Play in Editor which should result in this.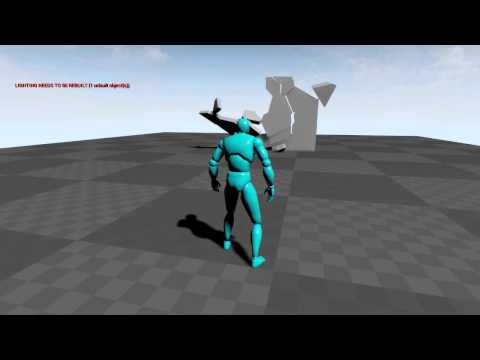 This technique was used extensively in the Elemental Demo for the destruction when the Lava is flowing and shattering the rocks.
I hope you've enjoyed this and if you have any questions feel free to ask!
EDIT: Apparently I left my music playlist playing in the background. Enjoy the music courtesy of Star Trek.