Hello everyone
I've recently started recording the development of an
Auto-Battle prototype game
(not streaming though).
You can follow everything on this playlist:
https://www.youtube.com/playlist?lis...ox7251JeQYw3AM
.
Here's a sneak peek at the latest progress: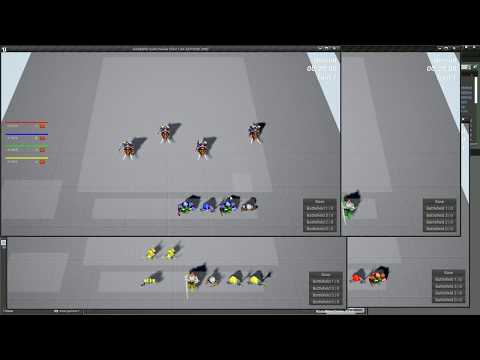 The entire development phase is recorded! There are already almost 100 videos (30+ hours) available!
Development is made using Blueprints only. Game is multiplayer. Unreal Engine version is 4.22.
/!\ Despite what I'm saying in the first few videos this is not a tutorial series, this is a live development series. This means I'm going really fast and not necessarily taking the time to explain everything. /!\
What are Auto-Battle games?
In Auto-Battle games, players have to carefully place and compose their army on a chessboard and each round they automatically fight against other players' armies.

Players buy, sell and promote units that compose their army. Each unit has an ability and belongs to a faction. Having several units of the same faction provides bonuses.

The genre was born with the Warcraft 3 mod named "Legion TD" and got popularized by "Dota Auto Chess". Recently "Dota Underlords", "Teamfight Tactics" and "Hearthstone Battlegrounds" followed the trend.
What are we developing together?
The scope of the project is to build an entire game loop, from the menu, to the multiplayer lobby (in Local Network), to ingame, to the recruitment and combat phase up until the end of the match.
We might be developing some features which are not usually found in the auto-battle genre.
Fields we're going over
Feature List
Development Cons
Conclusion
There's a Discord (
Discord.io/YunCorp
) if you want to enter the conversation. I'll be following and updating this thread as well.
If you have any feedback about the videos, feel free to share.
If you'd like to hear about a particular subject or add a specific mechanic to the game, feel free to ask.
And that's pretty much it, I hope you're all enjoying this wonderful period of the year, whether it'd be working or with your family.
Good luck and have fun everyone!